About Behind the Lens
Video trailer that tells the story of chapter one of
Behind the Lens
.
This video was created by three students at Kettle Moraine High School which has an amazing school for the creative arts,
KM Perform
:
Adan Davis-Quiroz, images. Trygg Johnson, video. Josh Neuwirth, music.
Behind the Lens
is available at Amazon:
https://www.amazon.com/Behind-Lens-Jeannée-Sacken/dp/1645381943
Behind the Scenes of Behind the Lens
by Hannah Cook at TEN16 Press
Originally appeared in the March, 2021 issue of WAUKESHA NEIGHBOR
Reprinted with permission
It's a given that any novel starring a photojournalist must have a cover worthy of the character. It may come as a surprise, then, that rather than using an actual photo, designers opted for a graphically designed cover for Behind the Lens, the debut novel by real-life photojournalist Jeannee Sacken.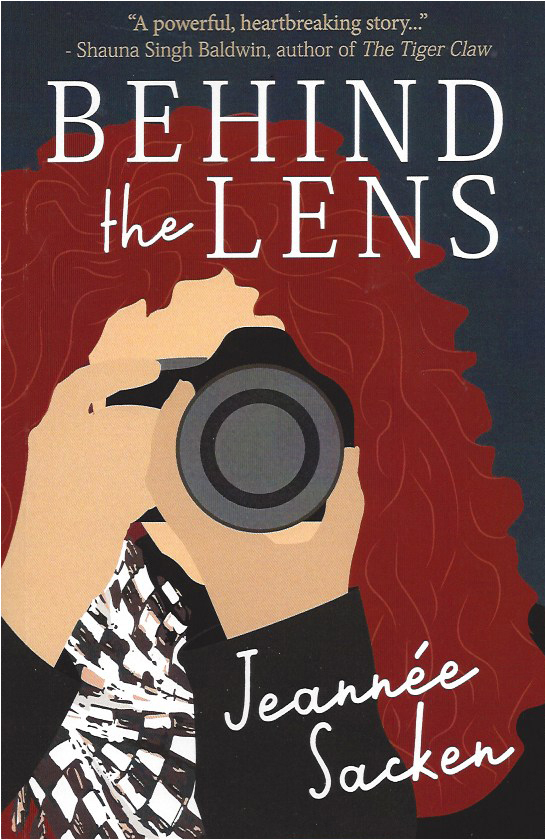 In Behind the Lens, seasoned American photojournalist Annie Hawkins Green returns to Afghanistan in 2015 after having suffered through a traumatizing Taliban ambush eight years prior. Readers will be drawn into Sacken's carefully crafted story of intrigue, suspense, and danger amidst the complex patriarchal culture of wartime Afghanistan. With so much happening within the story, it was a challenge for designers to create a cover that exemplifies all of its most important elements.
Original cover designs spotlighted photographs of two Afghan women, but that idea was eventually scrapped for a few reasons. First, its identity as a photo made the work appear nonfictional upon first glance. Even though a photograph would make sense for the story, because it is a fictional work, designers ultimately decided that an actual photograph might mislead the readers. Second, the novel follows Annie's journey, so it was decided that she must remain the focus of the cover, while the back cover showcases the Afghan Village where the story takes place.
The decision to showcase Annie came with the opportunity to feature the most important elements of her character, giving readers the chance to know her before even cracking the spine. First and foremost, of course, is the camera, illustrating Annie's career as a photojournalist and its powerful, driving force in the novel. More subtle, however, are the messages showcased by prominently presenting Annie's bright red hair. The color of Annie's hair sets her apart in her Afghan village of Wad 001, making her an easy target for those who oppose her work and increasing the danger in which she puts herself. It also indicates her fiery and tenacious personality, one of the many reasons readers will fall in love with her character.
Drawing on her many years of travel as a photojournalist, Sacken writes with an authority that can only be gained from experiencing adventure firsthand. Despite never having been to Afghanistan herself, her travels in other countries combined with meticulous research result in impressively detailed and atmospheric descriptions of the culture of Afghanistan, especially as it pertains to women.
So, if this cover catches your eye, don't miss out! You can't always judge a book by its cover - but in this case, the attractiveness of the outside lives up to the excellence within.
What inspired this story?
Honestly, once upon a time, this story had another life. I set the novel in Ciudad Juárez and created a protagonist who was a photographer working with a human rights organization to investigate the deaths of women working in factories. But it just didn't work. The manuscript sat on a shelf for years. When I looked at it again, I realized that I still loved the main character: Annie Hawkins Green. But she needed to be a war photographer. For that, I needed a war zone. Enter Afghanistan, and it all came together. However, this is not a war novel. Conflict bookends the story and provides tension that runs throughout. But just like Annie documents the lives of civilians as they live with conflict going on around them, that's what happens in this story... (Read the complete interview here)
I met Jeannee through Red Oak Writing, and was immediately taken by her stories of traveling the world. She is a photojournalist and the author of the recently released Behind the Lens. She has traveled all over the world taking stunning pictures of the people and the sites she sees. I asked her a few questions about her travel adventures and her journey from English professor, to photojournalist/adventurer, to author. Her answers are compelling, and the photos she shares with The Burning Hearth ignite the imagination in both their beauty and simplicity... (Read the complete interview here)